Hannibal Barca was a renowned general and statesman. He was known for his skill as a commander and his contributions to the army. He was born in 247 BC to Hamilcar Barca who was also a chief in the Carthaginian army. Mago and Hasdrubal were his younger brothers. All his family members were employed in the army and made major contributions to many wars.
Hannibal was born in Tunisia in the Mediterranean region. His name is of Latin origin and unique in Carthaginian culture. He had a difficult childhood as his father was busily engaged in the Mercenary War.
The situation was made worse when his sisters both became engaged and he lost their support. Hamilcar decided to improve Carthage's fate after it suffered losses in the First Punic War, and Hannibal supported his father in building a strong army and fighting the Romans.
At the age of nine, Hannibal was introduced to Roman and Carthage rivalry. He was made commander-in-chief of his troops and was given extensive training in the army at the same time.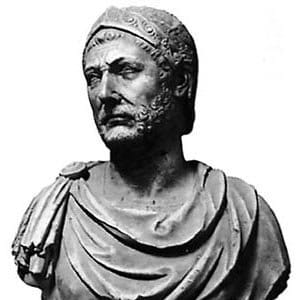 1. The Roman Enemy
Hannibal's life was dedicated to fighting the Roman Empire. His father, Hamilcar, introduced him to the Roman wars and trained him in the Carthaginian army. Rome was always a threat to Carthage, and the Barca family fought against them throughout their lives.
When Hamilcar introduced Hannibal to the army, he made him swear to maintain Rome as an enemy. After his father's death in the Mercenary War, Hannibal decided to fight to earn the lost respect of Carthage, and he traveled to Spain to seek support.
Hannibal Barca soon integrated into the Spanish army, and his efforts paid off in a victory over Rome in the First Punic War. The fire in his heart to defeat Rome was real, and he kept his promise to his father to always fight Rome. His aim to earn respect and freedom for Carthage was also achieved.
2. A Good Education
Hannibal was not only an efficient and capable soldier, but he was also well educated, often proving that the pen is mightier than the sword.
Hannibal was a great scholar, and he learnt from the ancient Greek teachers. While his father taught him everything he needed to know about the military and war, his Greek teachers were the key contributors to his all-round development. Hannibal made literary contributions mainly in the field of military books but was also a keen observer of language, especially Greek, and arithmetic.
He committed many of his great battle plans to paper, and being such a military enthusiast, Barca created a manual for the defense of Rhodes while he was in exile after the Second Punic War.
3. Mysterious Death
Hannibal Barca's death has remained a mystery, and archeologists and historians have never been able to provide any real details about it. It is believed that Hannibal died in Gebze, Turkey, possibly of a prolonged fever after injuring his finger with a sword while he was mounting his horse. This theory is often disputed though, and many scholars disagree with the story.
Another widely believed cause of death was suicide. It was thought that he poisoned himself in Libyssa. He had a ring with him which was always loaded with poison, and one theory is that he killed himself on the shores of the Sea of Marmara by consuming the poison.
The reason behind his suicide was thought to be his ongoing struggle with the Roman Empire. After the Second Punic War, he was exiled for a long time and had plenty of time to think about his own death. It is thought that this exile and isolation may have led to his suicide.
4. A Great Leader
Hannibal Barca learned to lead from the front. The Punic Wars were the most important evidence of his leadership qualities, and the most famous example of his military excellence was at the Battle of Cannae. His leadership skills and courage enabled his army to win the battle with only a handful of troops against a formidable 60,000-strong enemy.
The Battle of Cannae was considered the bloodiest battle ever fought. Around a quarter of the Roman population was killed, and Hannibal led by example. He left behind a legacy in warfare which is still evident today.
5. Shine to his Name
Hannibal belonged to an aristocratic family, and his surname Barca meant "shine" or "lightning," a name which he certainly lived up to. Hannibal was the one who earned his family respect even after his defeat in the Punic Wars.
Hannibal's family and his tribe, the Barcans, were filled with joy on his first victory in the wars. Despite beginning life as the black sheep of the family, Hannibal soon proved them wrong with his courage and skill on the battlefield.
6. Journey to Statesman
Hannibal transformed his life from being a military man to a statesman. With his efficient and strategic brain, his life after the wars was marked by his contributions to the state of Carthage. His plans and policies were unique and efficient, and shone as a new sun in Carthage's dark sky.
After the Second Punic War, he was appointed as a Carthage magistrate. At that time, Carthage was a backward region which was indebted to Rome. Hannibal brought about a revolution in Carthage's traditional and obsolete policies, he changed Carthage's constitution, and took Carthage's officials in hand.
Hannibal was also a major contributor to Carthage's prosperity. He soon realized that the city's debts could be repaid by imposing heavy taxation in the city which had been previously neglected. He also trained some of his army men in agriculture to boost the domestic economy. By 191 BC, Carthage had paid off all its debts in a lump sum.
The Carthaginians applauded Hannibal for such a turnaround in the city's fate, but once Hannibal's position as a magistrate expired, he distanced himself from politics because he was weary of Roman influence.
7. Elephant Army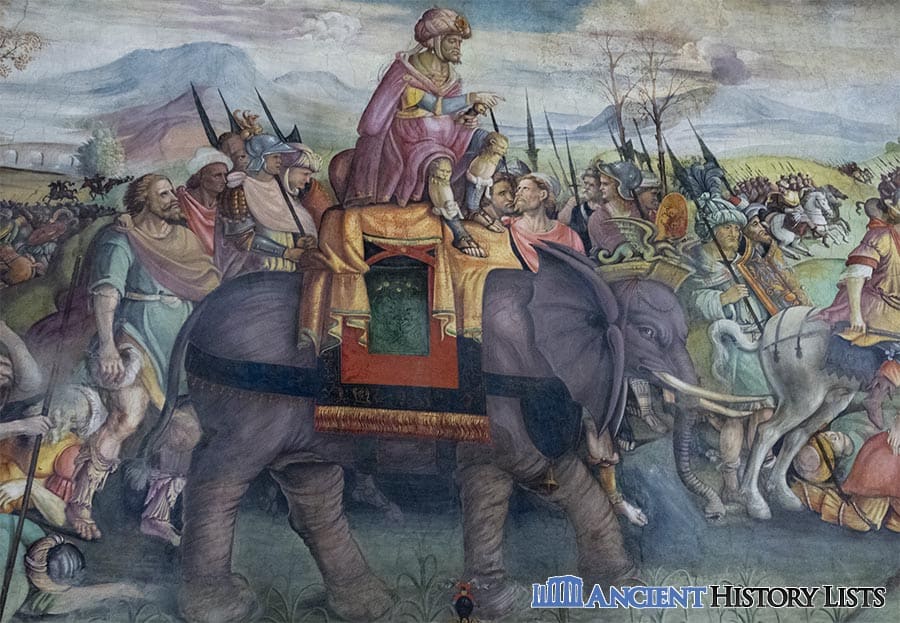 Hannibal had an abundance of elephants in his army, most of which were African elephants. These elephants were much smaller in size than the huge Asian elephants which his enemies used. However, he rode on an Asian elephant, for he believed that the battlefield could be viewed best from that height.
This particular elephant only had one tusk, thus it was named Surus. Hannibal felt an affinity with Surus as the elephant was missing a tusk and Hannibal was missing an eye. Hannibal's elephants proved fatal to his enemies as they were as efficient as any sword on the battlefield.
8. Hannibal Lost his Eye
Hannibal wore an eye patch after the Battle of the Trebia. This was not shown in statues and or artwork yet is widely agreed by historians to have been the case. After winning the Battle of the Trebia, Hannibal's army traveled through strange, uninhabited swamp land, made worse by heavy rain.
Many of the men's feet began to rot from the waterlogged conditions, and in Hannibal it led to an infection in his right eye. He lost his eye which was subsequently buried. This was seen as a symbol of victory for his countrymen and evidence of Hannibal's courage and fearless attitude.
9. The Alps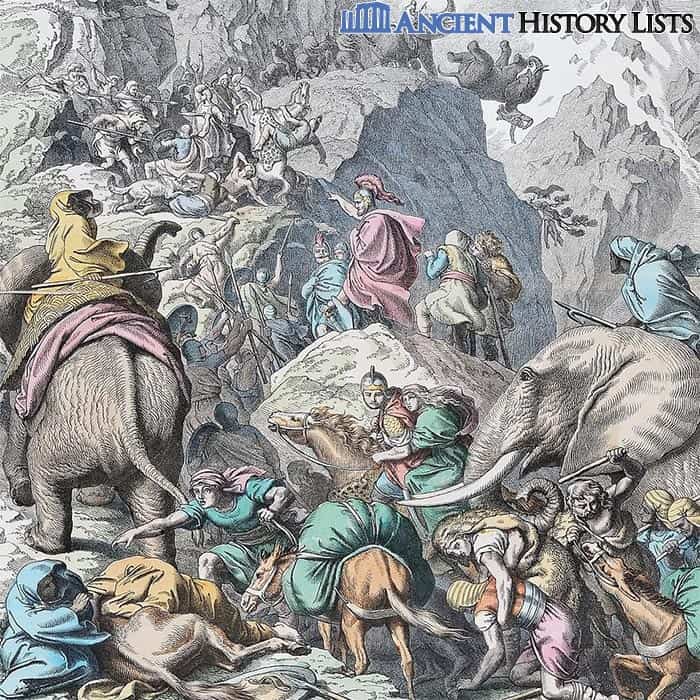 Crossing the Alps to fight the Romans was considered one of the greatest acts in military history. Hannibal knew that victory awaited him as his army was stronger than the Roman army on land. With this in mind, he was able to motivate and encourage over 40,000 men to cross the Alps in order to attain this victory.
10. Fabius Maximus
Fabius Maximus was Hannibal Barca's rival. He successfully trapped Hannibal in a valley, and in order to escape, Hannibal had to perform a miracle. He created an illusionary army by tying bundles of logs to around 2,000 oxen's horns.
These logs were set on fire, and the oxen were set free, creating chaos and confusion. Convinced he was under attack, Fabius assumed a defensive position, and Hannibal once again came out on top due to his quick thinking and strategic brilliance.
11. Life after War
Hannibal was a disciple of the Greek scholars and enjoyed peace and harmony after the wars. He went to the Seleucid court and became a military scholar but was sent into exile for a long period after his defeat at the Battle of Zama.
The Romans did this because they knew he would seek revenge after such an embarrassing defeat. While in exile, Hannibal followed his passion as a writer where he wrote several books on military strategy. Thus, his life after the war was built on the two pillars of the army and books.
12. Loyal Blood
Loyalty ran in Hannibal's blood. This loyalty was inspired in him by his father while they were in Spain where he was taught loyalty towards his homeland, Carthage. Similarly, Hannibal imparted this loyalty to the army he led.
Though his troops belonged to different areas, cultures, and customs, he was still able to inspire them to follow him. His troops were devoted to him, they responded well to his orders, and they had no thoughts of betrayal towards him. This loyalty was a major contribution to his success in battle.
Conclusion
Hannibal Barca belonged to a family whose legacy was marked by its military achievements, and Hannibal was able to continue this legacy with the respect he earned during his lifetime.
He was amongst the greatest commanders-in-chief, not only for his victories but also for his attitude and bravery. His strategic methods and intelligence earned him the title of "the father of strategy."
Hamilcar, his father, taught him to respect to his country, and this loyalty made Hannibal one of the greatest threats the Roman Empire had ever seen. He played a vital role in the battles of Trebia and Lake Trasimene, and the Punic Wars.
His education and intelligence spanned the areas of war and politics, and his optimistic attitude to life shone through in both these areas. This is why his death by suicide remains such a mystery.